A JumpSport is an excellent rebounder. Based on bungee bands, like the bellicon, they give you a great
rebounding experience. JumpSport sells different models and we do not consider all models as
as their quality is not high enough. However, we can very much recommend the JumpSport 370 and also the
JumpSport 350. Both of them are QiBounders.
Find out which rebounder meets you health and fitness needs and fits into your budget.
Below you see those JumpSport rebounders that are high enough in quality to deserve
the certification "QiBounder". JumpSport manufactures other rebounders, however their quality level is
inferior to those listed below and therefore they don't qualify as QiBounders.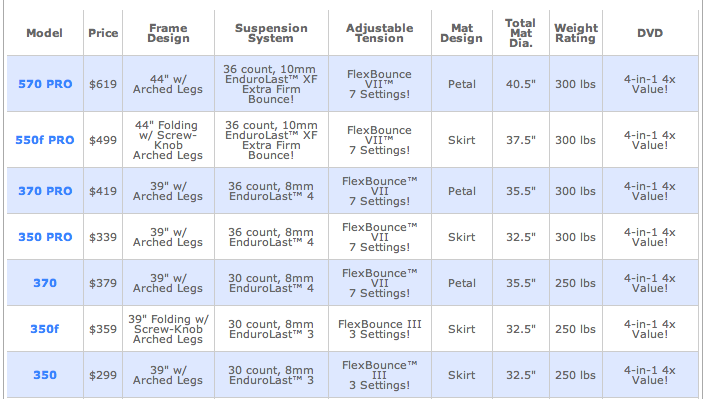 Call us at 800-658-1290. We are here to serve you.

JumpSport 350




JumpSport 370






350 Folding:









JumpSport



Models
350 screw-on legs ($299)

350 half fold ($349)

370 screw-on legs, Petals ($379)


Size
39 inches in diameter
27 inches bouncing area
12 inches high


Color
silver / black

Accessories
Carrying Case for 350Fold $69.95
Holding bar for 350 and 370 $79.00



Compare with other Rebounders


Great for those who want to offer themselves a high quality Rebounder with a softer bounce than a spring based Rebounder without needing to pay for a "Porsche".


Model 350

Silver / Black Fit & Finish
EnduroLast 4 bungee cords

FlexBounce III™ - 3 tension settings!
Skirt Mat Design

Basic Fitness DVD Included

Model 370

EnduroLast 6 bungee cords

FlexBounce VII™ - 7 tension settings!
Padded Petal Mat Design

4-in-1 Compilation Fitness DVD Included

Click here to read the test results and to see a comparison video











Frame

Mat

Cords

all
other
parts