And the winners are .......
Best Video:
Alexis Black with her stunning Morning Routine:
Best Testimonial:
Beth Keene and her daughter
Emma, Celia, Isabella and Maria
"I SLEEP LIKE A BABY WHEN I REBOUND!"

Hello Sylvia,
I want to thank you for providing the BEST quality rebounders on the market!
I am a homeschooling mother of four beautiful girls.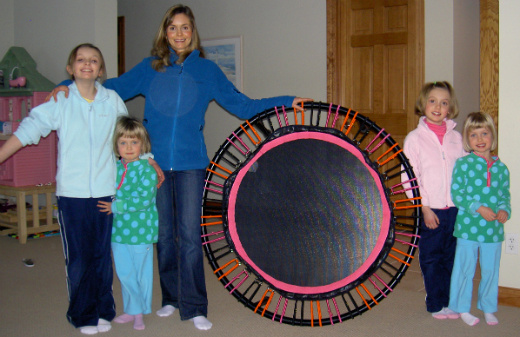 We ALL love our Bellicon and use it every day. The kids love to jump and dance on it. I do one solid 30 minute workout and a couple short sessions lasting only a few minutes. I have tried walking and jogging on our treadmill, a stationary bike and Pilates. Rebounding is by far the most fun and the most beneficial workout.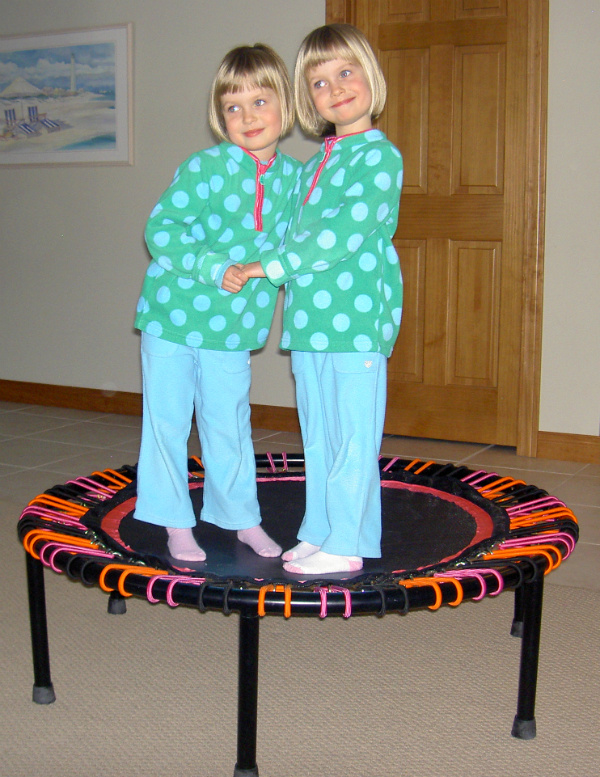 In fact, I've never looked forward to exercising until I bought my Bellicon two years ago in 2008. I love the fact that I get a TOTAL body workout, bones, muscles, cells and all! It just plain feels good! Rebounding has given us more strength, better moods, and vibrant health. I recently took a few weeks off of rebounding to see the effects. It's been a few days back to rebounding now and I cannot believe the change in muscle definition in my legs, rear and stomach now that I'm back. My eyes are brighter. I feel better. The other very important difference is I sleep like a baby when I rebound. If I don't rebound, I toss and turn and get up every two hours.














Rebounding has helped me to look forward to sleeping instead of dreading it. My 9 year old daughter always enjoys the gentle bounce before bed to help her unwind and get a better quality night's sleep. And I can't underestimate the benefits of cleansing our lymphatic systems each time we bounce as well as strengthening all of our bones! I know that rebounding has strengthened our immune systems as well. We have not been sick for over a year! The last memory of sickness I have was over a year ago when Celia came down with a fever close to 104 and felt sick and tired. I was worried because when Celia would get sick it usually turned into something really bad like pneumonia. I had recently read a book on rebounding that said if you do the gentle bounce with feet on the mat for 2-3 minutes every hour you can triple your white blood cell count which I knew would help fight off the virus or bacteria. I held Celia's hands while she did the gentle bounce for 3 minutes every hour followed by water and rest. I took her temperature shortly after the bounce and was surprised that each time she would finish the gentle bounce, her fever would go down a little. To my amazement, by the end of the day, she was feeling good and the fever was completely gone. It seemed to good to be true. I told all my family about it but I've not had another chance to test it out because we've all been in such great health rebounding every day!





Thank you so much!

Beth 35

Emma 9

Celia 8

Isabella and Maria 4